Circular Factory
In May, the Circular Factory program by BlueCity and Tekkoo kicked off with six selected startups: Bakkersgrondstof, Biophilica, BlueBlocks, Fairm, MaGie Creations and Nature's Principles. In June and July, these six participated in the Due Diligence Days. Under the guidance of Tekkoo and BlueCity the startups dove into feedstock, customers, plant design and finance issues. They determined their needs in terms of expertise and experience and defined a plan for the rest of the program. Over the summer, the startups tweaked this plan and formulated a central key issue: this is their biggest struggle when it comes to making their dream of a circular factory a reality. Now, it was time for the next phase: partner matching. The kick-off of this phase was the Pitch & Plug Event, on 20 September 2022.
Pitch & Plug Event
Based on the plans formulated in the Due Diligence phase, BlueCity and Tekkoo started building an ecosystem of partners and experts around the startups that will either join the Pitch & Plug event or one of our dedicated expert sessions. The first step: inviting relevant experts for the Pitch & Plug Event, giving the startups a chance to pitch their key-challenges and getting advice to move on in the project. For this event, we invited stakeholders who are able to offer specific expertise to the posed challenges. For example: choosing the right location for your future facilities, where the team of Renewi, represented by Marc den Hartog, Ernst Jan Mul and Hanneke Agterhuis, helped out. Two other startups needed help with their governance and financial models. Here the InvestNL team, impact investor ifund and WeAreStewards expert and seasoned entrepreneur and founder of Fairphone and the Clique Bas van Abel helped out, along with many others. And finally, we have three startups that are figuring out how to put circularity in the heart and centre of their demo plant. In particular focussing on either production surpluses and innovative methods to challenge residual heat and more sustainable ways to dry materials. Here the help of experts like Diana Visser from Corbion or Andy Joynson from the brand new Innocent Factory 'Blender' helped out. Because, as project manager Janneke Brouwer put it in her introduction talk, "This part of the programme is about creating meaningful connections. What makes expertise meaningful is when it is provided by and to the right people, at the right time in the right place." 
After Janneke introduced the purpose and program of the day, BlueCity director Sabine Biesheuvel took over the microphone. She explained that the Circular Factory program was born out of a shared frustration with Tekkoo and PeelPioneers founder Lindy Hensen. Being circular entrepreneurs themselves, they see too many circular startups in the Netherlands that never make it to the scaleup phase. One of the reasons is that the startup scene in the Netherlands is based on software growth curves and little attention is given to either manufacturing or processing startups that develop differently, are riskier and more capital intensive. At the same time, building circular factories, also in regular industry, is a pioneering field. Sabine drew the comparison between the concept of a circular factory and a group of blind people meeting an elephant for the first time. 
This story of the blind man and the elephant is actually a parable and metaphor for systemic thinking. The Blind Men and the Elephant is a parable from India that has been adapted by many religions and published in various stories for adults and children. It is about a group of blind men who attempt to learn what an elephant is, each touching a different part, and disagreeing on their findings. Their collective wisdom leads to the truth. So when defining, or better even: when working on a circular factory, we as a programme actively invite different perspectives to help us out to truly build factories that solve serious problems ahead. In the end, Sabine's point was, that you can interpret the 'circular factory' concept in many different ways, like local feedstock, product design, multicrop valuation, sustainable plant design, using residual heat & waste, carbon neutral machinery, refurbishing existing factory or cooperative models in the value chain. Or maybe… all of the above?! With the help of the variety of experts, we think we'll come a long way.  Our point is: let's not waste too much time discussing perspectives. But when moving forward with building your circular startup, be open to other perspectives that help make it better. 
After a short introduction of some of the experts in the audience, the room was warmed up and ready for the main event: the six pitching startups. Because, as Sabine put it: "The proof is in the pudding!" 
Pitches
Sebastiaan Hetterschijt from Bakkersgrondstof kicked off the pitches. Bakkersgrondstof collects excess bread from bakeries and reprocesses them into tasty sourdough. Sebastiaan explained the current status of Bakkersgrondstof: 2,5 tonnes of bread from one bakery is being processed each week. The 2,5 tonnne of sourdough this generates is used to bake 12.500 loaves of bread. These are sold to a caterer. Bakkersgrondstof has an off take contract with a launching customer, who will give them 100 tonnes of 'old' bread each week. Current needs for which Sebastiaan asked help from the crowd included financing, IP, marketing based on TruePrice principles and the actual building of the factory. Their biggest burning question: what cooperative governance models enhance cooperation (and fair pricing) between us, our feedstock suppliers and customers?
Next up was Daniela Rondinone from Biophilica, who pitched their leather alternative called 'Treekind', made from green waste. This material is fit for purposes like bags and wrist bands. The 'leather' is plastic free, compostable and low in CO2 emission, water use and energy use. For the pigments, Biophilica uses natural resources like algae, plant, or mineral pigments and the coating is 100% biobased as well. Currently, the startup is ready for the scaleup phase, receiving more interest from the market than they can produce. But the specifics on building a circular factory give problems, for which Biophilica asked the crowd for help. Their key questions: what are innovative low cost/big impact solutions regarding fossil free solar/thermal processes to heat water and dry biomass on a factory scale? And which parties can help translate our production steps to a circular and carbon neutral/free demo factory design? 
Marjanne Cuypers from BlueBlocks, the startup that pitched next, shared these questions with Biophilica. BlueBlocks produces a building material called 'SeaWood', from brown seaweed. Founder Marianne highlighted that their material offers a solution for the three challenges the building industry is currently facing: a high demand for new and renovated houses, while facing increasing material shortage and high environmental costs. Their SeaWood plates are 100% biobased fibre boards, with acoustic and isolating properties that are free of toxics or volatile gas emissions and recyclable & biodegradable. Like Biophilica, BlueBlocks asked for help with the scaling up of the production process in a sustainable, circular and carbonfree way, which at BlueBlocks specifically consists of heating, mixing, forming and drying processes.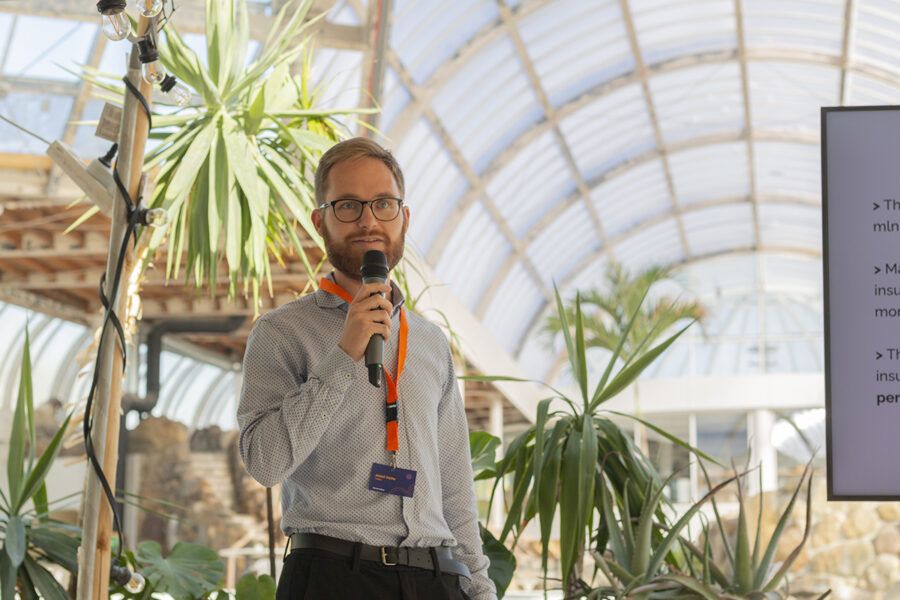 A short break gave the startups, organization and experts some time to catch their breath after the whirlwind of pitches and get their brains pumping again with some new energy from the circular catering by Jack Bean. With everyone's bellies filled, Joost Vette from Fairm continued the pitch streak. Under the tagline "Making natural the new normal", Fairm produces insulation material made from fibers and mycelium bound together. The Dutch construction sector uses 3 million m3 rigid insulation each year. Currently, there is no sustainable alternative for these materials, but Fairm wants to change that. Their key-issue related to the financial models of their demo plant: how do we model the scale of our future factory to determine what production scale would be both profitable and sustainable?
Joost's pitch was followed by Madeleine Gielens from MaGie Creations. This startup sees beer grain as the food ingredient of the future. This raw material that is seen as waste by the beer brewing industry is tasty, healthy and sustainable, but right now it's devalued by being used for feed for cows in the dairy industry. MaGie Creations uses beer grain for a more high value application: human food. They see multiple uses for beer grain, ranging from nutritional additive, to taste enhancer, to fat replacement. Madeleine asked the crowd for help on how to organize the storage and valorisation of surpluses and residual flows in their demo factory.
Last but not least, Nature's Principles pitched their lactic acid solution. Their innovative lactic acid production process that uses sugar for feedstock like sugar beet instead of refined sugar, enables a more sustainable and cost-effective production of lactic acid. Costs are reduced by up to 30%, CO2 production by 50% and water production is also significantly lower. Right now, Nature's Principles has a demo plant, but is looking ahead. Their question for the crowd: what variables do we need to weigh to determine the decision for a production location?
Next steps
After the pitches, it was time for the break-out sessions. Each startup sat at a different color-coded table. Tekkoo and BlueCity had matched the experts with the questions of each startup. In small groups of up to 8 people, the startups and experts brainstormed about their key-issues. Experts offered advice from their own lived experience of scaling up. Startups listened, elaborated, wrote down countless notes and exchanged contact details for follow-up conversations. Moderators (Sabine Biesheuvel, Lindy Henssen, Janneke Brouwer, Ernst-Jan Mul and Nienke Binnendijk) at each table kept the startups and experts on their toes, steering the conversation in the most productive angle and making sure the key-issues were properly addressed. After the break-out sessions, experts and startups mingled over drinks, to answer questions in a more informal setting and get to know each other better.
Stay tuned for all the next steps for the Circular Factory startups!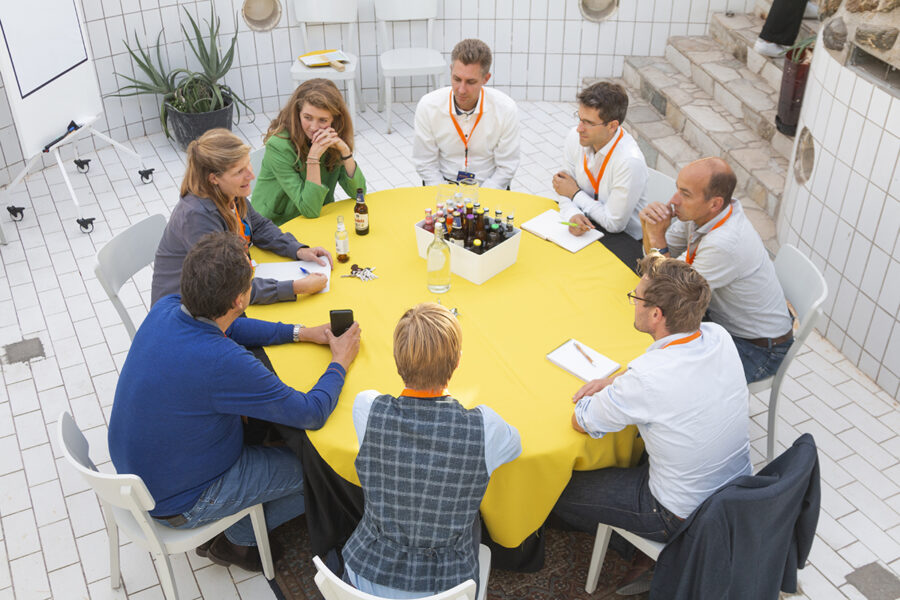 Circular Factory is a program of Tekkoo, BlueCity, Renewi, Stichting Ondernemersbelangen Rotterdam, Municipality of Rotterdam and InvestNL.